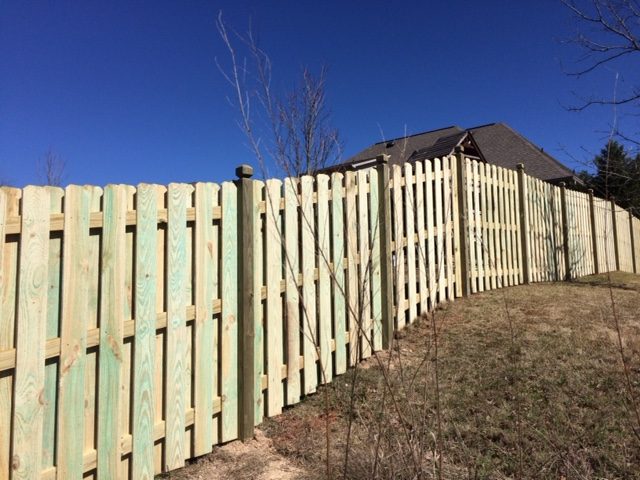 Our highly-trained professionals are well-versed in the function of every kind of fence there is and will appraise a project with the foresight needed to ensure you get the right kind of fence installed for your needs, whether it's decorative or security fencing. When you choose us as your fence contractor, you can expect thoughtful design, beautiful craftsmanship and timely completion.
We're pleased to offer installation and repair of the following types of fences:
Security and privacy fencing: Whether you need an extra-tall fence to create some privacy from too-close neighbors, a sturdy barrier to keep unwanted guests at bay, a garden fence to protect your roses from audacious deer or an escape-proof fence to keep your children and pets safe, we're here to provide the best choice for you.
Decorative and ornamental fences: Our professionals will craft and install fences that look as unique and delicate as they are tough. We offer construction in a variety of woods, including cedar and pine, and a variety of metals, including steel and aluminum. We pride ourselves on making every project as original and thoughtful as possible.
Custom wood fencing: Looking for picket or shadowbox fencing, or maybe something a little more organic and standout? Our superior pine and cedar products hold up as well as metals, and you'll be amazed at how beautifully and naturally our customized wood designs will fit in with your home.
Fence Line Clearing: One of the first steps in any construction project is clearing the area. Before construction can actually begin, the land needs to be prepared. You may have a lot of digging and clearing to do before your new fence gets installed, but able to take care of this with our Bobcat.
Installing quality fencing can truly help increase the aesthetic value of your home. At Fence Crafters Alabama, we're Tuscaloosa's first choice fence contractor for unrivaled craftsmanship and service.
We always make sure our customers are genuinely satisfied and will consult with you about your needs before we begin designing. To learn more about our services, to schedule an appointment or to get some inspiration for your project, give us a call today at 205-310-4141.